Telekommunikationsenergi batteri (CFP21000, 2v, 1000Ah)
FirstPower ger dig inte bara pålitligt batteri och teknik, men också utmärkta tjänster och verkligt värde du kan förvänta dig och njuta av. Vi välkomnar beställningar med varumärket FirstPower; Vi är också flexibla för att ta emot order på OEM-basis. Kontakta oss nu! Ditt partnerskap med FirstPower kommer att visa sig värdigt.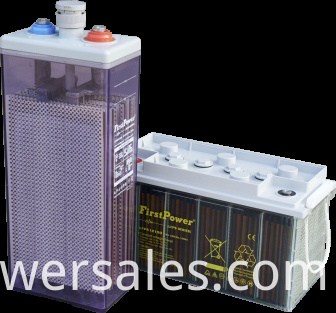 Internationella certifieringar:
ISO9001 godkännande, FN: Q3105105131
ISO14001 CTC04912E10302ROM
OHS MS18001 04912S10150ROM
UL-godkännande, FN: MH28204
CE-godkännande, FN: G2M20201-0102-E-16
KS-godkännande, FN: KS C 8519
VDS godkännande
BS-godkännande
CFP-serien Batteri Allmänna funktioner
läckagesäkert
Förseglad och underhållsfri drift
Hög kvalitet och hög tillförlitlighet
Exceptionell Deep Discharge Recovery
Låg Självutmatning
Långt livslängd
Fasta kopparterminaler
Tankformade tallrikar
Datorstödd design och tillverkning
UL, CE, VdS Godkänd
Typiska Användningsområden
Telekommunikationsutrustning
Elektroniska instrument
Brandlarm
Säkerhetsenheter
UPS strömförsörjning
Nödbelysning
Specifikationer
Nominal Voltage
2 V
Capacity
(25ºC)
10HR(1.80V)
1000 Ah
3HR(1.75V)
765Ah
1HR(1.75V)
565Ah
Dimension
Length
475±2mm (18.70inch)
Width
175±2mm (6.89inch)
Height
330±2mm (12.99inch)
Total Height
367±2mm (14.45inch)
Approx. Weight
61kg (134.5lbs)±3%
Terminal type
T10
Internal resistance
(Fully charged, 25ºC)
Approx. 0.28mΩ
Capacity affected by temperature (10HR)
40ºC
102%
25ºC
100%
0ºC
85%
-15ºC
65%
Self-discharge
(25ºC)
3 month
Remaining Capacity: 91%
6 month
Remaining Capacity: 82%
12 month
Remaining Capacity: 65%
Nominal operating temperature
25ºC±3ºC(77ºF±5ºF)
Operating temperature range
Discharge
-15ºC~50ºC(5ºF~122ºF)
Charge
-10ºC~50ºC(14ºF~122ºF)
Storage
-20ºC~50ºC(-4ºF~122ºF)
Float charging voltage(25ºC)
2.25 to 2.30V
Temperature compensation:
-3mV/ºC
Cyclic charging voltage(25ºC)
2.42 to 2.48V
Temperature compensation:
-5mV/ºC
Maximum charging current
200A
Terminal material
Copper
Maximum discharge current
7500A(5 sec.)
Designed floating life(20ºC)
20 years
Absorberande glasmatsteknik;
Erkänt av UL & CE;
ABS-behållare.
Mått
Terminal: M8
Konstant strömavskiljningsegenskaper (A, 25ºC)
| | | | | | | | | | | | |
| --- | --- | --- | --- | --- | --- | --- | --- | --- | --- | --- | --- |
| F.V/TIME | 30min | 60min | 2h | 3h | 4h | 5h | 6h | 8h | 10h | 20h | 24h |
| 1.60V | 900 | 600 | 365 | 260 | 209 | 182 | 156 | 122 | 102 | 53.4 | 46.3 |
| 1.65V | 882 | 591 | 363 | 259 | 208 | 180 | 155 | 122 | 102 | 53.3 | 46.2 |
| 1.70V | 855 | 576 | 360 | 257 | 206 | 179 | 154 | 121 | 101 | 53.2 | 46.1 |
| 1.75V | 834 | 565 | 355 | 255 | 205 | 178 | 153 | 120 | 101 | 52.9 | 45.8 |
| 1.80V | 804 | 547 | 346 | 247 | 199 | 173 | 148 | 116 | 100 | 52.5 | 45.5 |
Konstant strömavladdningskaraktäristik (Watt, 25ºC)
| | | | | | | | | | | | |
| --- | --- | --- | --- | --- | --- | --- | --- | --- | --- | --- | --- |
| F.V/TIME | 30min | 60min | 2h | 3h | 4h | 5h | 6h | 8h | 10h | 20h | 24h |
| 1.60V | 1683 | 1140 | 705 | 510 | 410 | 358 | 307 | 244 | 203 | 107 | 93.1 |
| 1.65V | 1649 | 1123 | 701 | 507 | 407 | 356 | 306 | 242 | 202 | 107 | 92.9 |
| 1.70V | 1599 | 1094 | 695 | 503 | 405 | 353 | 304 | 240 | 202 | 106 | 92.6 |
| 1.75V | 1560 | 1073 | 684 | 500 | 402 | 351 | 301 | 239 | 200 | 106 | 92.1 |
| 1.80V | 1503 | 1040 | 667 | 485 | 390 | 340 | 292 | 232 | 199 | 105 | 91.5 |
OBS: Ovanstående egenskaper data kan erhållas inom tre laddning / urladdning cykler
Produktkategorier : Nätverk gångreserv/batteri > Standard serie batteri